SPCA Penang Contact:

Jalan Jeti Jelutong 11600 Penang, Malaysia. (604)2816559 (6016)4166559
Email: info@spca-penang.net
Web: www.spca-penang.net
We welcome visitors to the shelter.
Kindly note our visiting hours:
Monday - Friday: 10am - 12.30pm and 2pm - 4.30pm
Saturday : 10am - 12.30pm
We are closed on Sundays and some Public Holidays (please check website for details).
Our phone is manned 7 days a week until 7pm. Emergency calls will only be handled during daylight hours.

Subscription Information:
To unsubscribe to this newsletter, please click this link (or send email to info@spca-penang.net) with "unsubscribe" in the subject line.
To subscribe to the newsletter and other SPCA Penang alerts, please send email to info@spca-penang.net with "subscribe" in the subject line.
Dear Members & Friends,
Greetings and a very Happy New Year to all.
As we wrap up year 2021 to welcome the New Year 2022, first of all SPCA Team and its Paw Friends would like to thank each and everyone of you who have given us their support throughout. Though it was not been a great year for all, we must say that we are still very fortunate to receive many kind donors who are sympathetic towards our cause. Your support has indeed given us much courage to continue our services towards animal welfare. We hope to receive your continuous support again whenever you are thinking of charitable donations.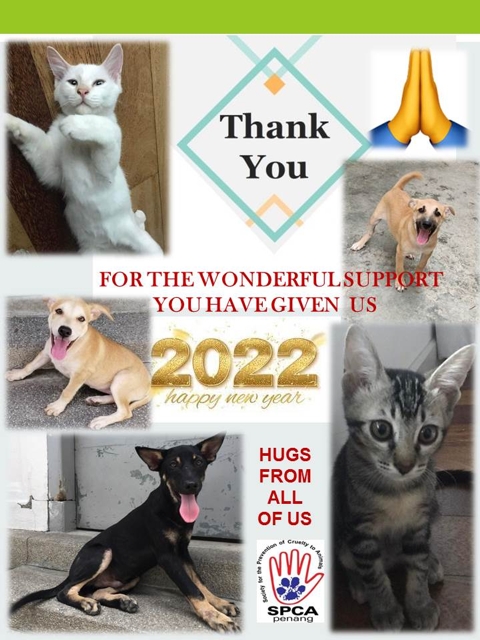 Our resolutions for the New Year, we just wish that:
We have less or no calls for the surrendering of pets (article)

Pet owners-to-be will think hard before adopting/keeping a pet. Know your commitment before deciding to have a pet. (article)

Pet owners visit the many unwanted/abandoned animals at shelters before deciding to allow breeding of their own pets. Shelters are all full and there's not enough homes to go to.