SPCA Penang Contact:

Jalan Jeti Jelutong 11600 Penang, Malaysia. (604)2816559 (6016)4166559
Email: info@spca-penang.net
Web: www.spca-penang.net
We welcome visitors to the shelter.
Kindly note our visiting hours:
Monday - Friday: 10am - 12.30pm and 2pm - 4.30pm
Saturday : 10am - 12.30pm
We are closed on Sundays and some Public Holidays (please check website for details).
Our phone is manned 7 days a week until 7pm. Emergency calls will only be handled during daylight hours.

Subscription Information:
To unsubscribe to this newsletter, please click this link (or send email to info@spca-penang.net) with "unsubscribe" in the subject line.
To subscribe to the newsletter and other SPCA Penang alerts, please send email to info@spca-penang.net with "subscribe" in the subject line.
Dear Members & Friends,
Greetings from the SPCA Penang!
SPCA PENANG wishes all our Hindu friends and supporters a very HAPPY DEEPAVALI. We hope this Festival of Lights bring us all good blessings as we begin to wind up Year 2021 and soon moving into another New Year.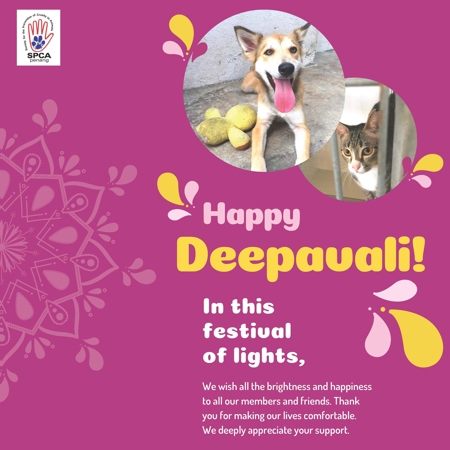 Our next briefing will be held on Saturday 20
th
November. To all who have signed in, please take note and be punctual. Places for registration to the briefing is limited. For those who are keen to join in, please make sure that the date is convenient to you before signing in. Registration can be done
here
.