SPCA Penang Contact:

Jalan Jeti Jelutong 11600 Penang, Malaysia. (604)2816559 (6016)4166559
Email: info@spca-penang.net
Web: www.spca-penang.net
We welcome visitors to the shelter.
Kindly note our visiting hours:
Monday - Friday: 10am - 12.30pm and 2pm - 4.30pm
Saturday : 10am - 12.30pm
We are closed on Sundays and some Public Holidays (please check website for details).
Our phone is manned 7 days a week until 7pm. Emergency calls will only be handled during daylight hours.

Subscription Information:
To unsubscribe to this newsletter, please click this link (or send email to info@spca-penang.net) with "unsubscribe" in the subject line.
To subscribe to the newsletter and other SPCA Penang alerts, please send email to info@spca-penang.net with "subscribe" in the subject line.
Dear Members & Friends,
Greetings from the SPCA Penang!
We never know when this pandemic Covid 19 is going to clear. For a while, we thought we would be slowly beginning to return to the community coming in here, be it visiting or volunteering. And, we are now caught with the third wave. In view of this, we appreciate very much if visitors could kindly call us for an appointment during our opening hours between 10 a.m. to 12.30 p.m., 2-4.30 p.m. Mondays to Fridays and on Sat. 10 a.m. -12.30 p.m.
SPCA would also like to advise all visitors with the intention to adopt, please be prepared to bring along the necessary accessories like a collar, leash and/or a pet carrier.
---
Our Volunteers from afar
Our volunteers Teppo and Virpi from Finland visit Penang yearly at this time of the year. They spend most of their time at the shelter interacting with all our animals almost daily while here. Due to the pandemic Covid 19, for the first time for nine years the staff and animals at the shelter will miss their company.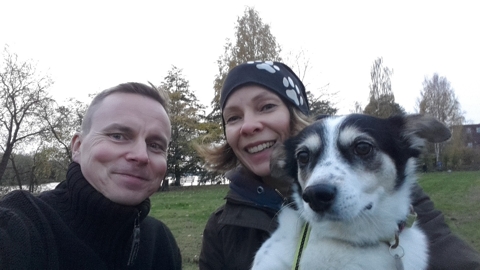 "We really miss Penang, sun, food, people and our furry friends. We'd love to come back there, but Malaysia is unlikely to open borders any time soon".
To you Teppo and Virpi 'STAY SAFE, STAY HEALTHY' and God willing, we shall see you both next year.