SPCA Penang Contact:

Jalan Jeti Jelutong 11600 Penang, Malaysia. (604)2816559 (6016)4166559
Email: info@spca-penang.net
Web: www.spca-penang.net
We welcome visitors to the shelter.
Kindly note our visiting hours:
Monday - Friday: 10am - 12.30pm and 2pm - 4.30pm
Saturday : 10am - 12.30pm
We are closed on Sundays and some Public Holidays (please check website for details).
Our phone is manned 7 days a week until 7pm. Emergency calls will only be handled during daylight hours.

Subscription Information:
To unsubscribe to this newsletter, please click this link (or send email to info@spca-penang.net) with "unsubscribe" in the subject line.
To subscribe to the newsletter and other SPCA Penang alerts, please send email to info@spca-penang.net with "subscribe" in the subject line.
HOW COULD YOU??
It really saddens us each time dogs /cats come to the shelter in such a bad condition. One could go wild and imagine "how could the owner do that"? Look at this white husky dog. She was probably cute and had the look of being white as cotton to melt the hearts of its owners when she was a puppy. This husky dog has now been adopted and taken care of.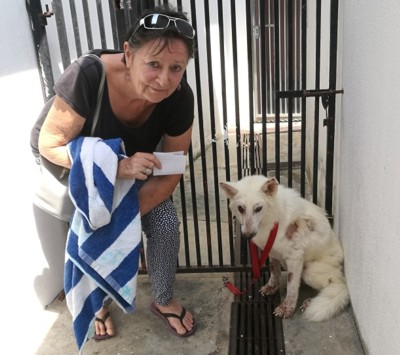 Another episode and we cannot understand why this puppy has to be dumped outside our gate in this manner especially in broad daylight. Check the cctv video here.
For safety and security reasons, our entrance gate is always closed. All one needs to do is to press the bell for attention and we will be at the gate to receive during office hours.
---
Diwali greetings
To all our Hindu Members, Friends and Supporters, SPCA Penang wishes you a Happy Diwali.