SPCA Penang Contact:

Jalan Jeti Jelutong 11600 Penang, Malaysia. (604)2816559 (6016)4166559
Email: info@spca-penang.net
Web: www.spca-penang.net
We welcome visitors to the shelter.
Kindly note our visiting hours:
Monday - Friday: 10am - 12.30pm and 2pm - 4.30pm
Saturday : 10am - 12.30pm
We are closed on Sundays and some Public Holidays (please check website for details).
Our phone is manned 7 days a week until 7pm. Emergency calls will only be handled during daylight hours.

Subscription Information:
To unsubscribe to this newsletter, please click this link (or send email to info@spca-penang.net) with "unsubscribe" in the subject line.
To subscribe to the newsletter and other SPCA Penang alerts, please send email to info@spca-penang.net with "subscribe" in the subject line.
Happy Chinese New Year Greetings to all!
As we say goodbye to the Year of the Dog, we would like to thank all supporters and friends for another smooth-sailing year, though with a few little hiccups.
Let us usher in the Year of the Pig with resilience, and hope the general community will have more empathy towards the strays and their own pet animals. May we wish that they have more commitment in lending support towards animal shelters. As Chinese New Year season is celebrated with a bang of fire crackers and fireworks, we would like to remind pet owners to keep their pets safe indoors if possible to prevent them from escaping and straying, thus becoming lost and/or abandoned animals.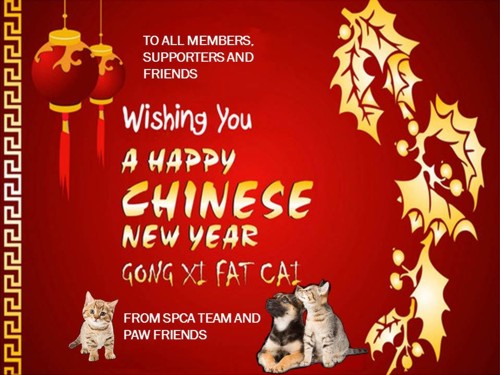 A word of caution to all pet owners, rabies has been detected in Taiping. Taiping is less than a 20 minute drive to the border of mainland Penang. Kindly ensure that your pet is protected. Consult your veterinarian to have the rabies vaccination for your pet dog(s)/cat(s).