It's so heartening to hear our paw friends from afar are doing well in their new place. Two of our adopted cats 'Tingko' aka Brigitte and 'Ebbo' had left Malaysia for France and Austria respectively. This is what their parents say:
Hello everyone,
My name is Amelie. I've adopted a cat called Tingko in December 2018. Her new name is Brigitte from the Jungle. I just wanted to tell you that I took her back with me in France in June, and she's doing super fine thousands of kilometres away from her native land.
I want to thank you for the job you do and for the love you've given her, and all her feline fellows back in Malaysia. You'll find a picture showing the pounds she's put on since she arrived in my humble abode.
Cheers,
Amelie.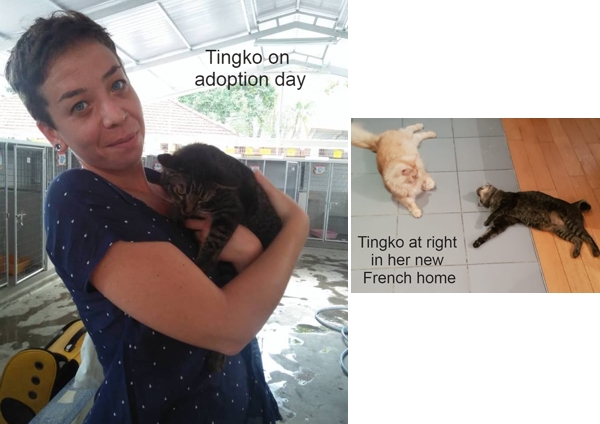 Dear SPCA,
In January 2018, we adopted a very adorable siamese mix (Ebbo) from the SPCA as a companion to our older cat (Frank). Ebbo is an absolute angel and came with a lot of "attitude". He's talkative, absolutely clingy, and loving, plays fetch and objects to high pitched singing :-)
We moved to Austria last year and were concerned about how well these tropical cats will adjust to the weather, but they have settled in amazingly well. They were constantly snuggling and keeping one another as well as us warm during the winter and love chasing insects and birds during the summer.
Thank you for Ebbo and for your loving service.
Regards,
Jayanthi