Dear Members & Friends,
What makes a good purr..fect and paw..fect pet owner?
Anyone who loves animals especially cats and/or dogs will see how very excited the animals are at their first sight of their owner. Pets provide the owner with companionship, comfort and unconditional love. Pet owners should in return be willing to commit and provide the best care. In addition, pet owners should be responsible for the animal's well being.
Not everyone around us can be accommodating and tolerant when pets have become a nuisance in their surroundings. We get many complaints on owners who are unaware of the sensitivity of their neighbors, thus problems arise. Common complaints that we should be aware of:
1. Never allow your dog to bark excessively (check on your pet to find out, perhaps help or training is needed)
2. Keep the place clean and do not allow foul smell from your pet.
3. Check on your pet for ticks/fleas to avoid infestation of ticks into your neighbor's compound
4. Never allow your pet to roam all over. When you walk your pet, use a leash and always carry a plastic bag with you to pick up its mess. Try to avoid allowing your pet to urinate onto tires of vehicles.
This poor dog in Penang was recently slashed with a knife, supposedly due to the fact the dog frequently urinated on the perpetrator's car. The dog is under treatment now.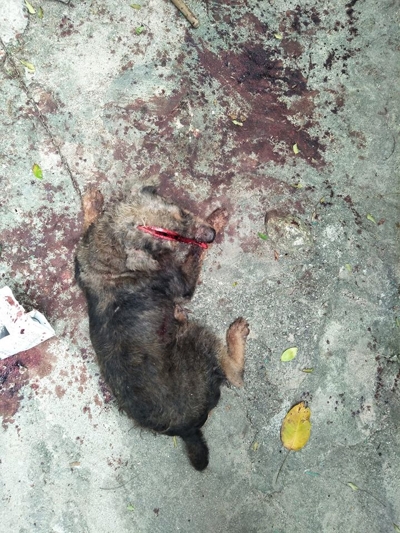 If you are a cat owner and allow your cat outside, try to prevent it from urinating or defecating in other properties. We often get reports from cat owners of neighbors taking their pets and dumping them elsewhere because they are a nuisance.
We also get reports of pets being poisoned by neighbors when they become a nuisance. Do practice Responsible Pet Ownership!